Discover more from Footnotes from the Void
Footnotes from the Void is a collection of meditations and dispatches from a life haphazardly lived in Kuala Lumpur.
Footnote #3: so much for summer love
a letter in four parts
"never met a bi who didn't love a lowercase letter" — twitter, probably
Dear beloved,
I'm currently in the midst of writing the first third of the first novel I think I might actually finish, which means that this is the precise moment I want to be doing anything but writing the first third of the first novel I think I may never actually finish. Which is why I am writing this newsletter to you instead.
Every year—like clockwork, like the seasons, like my grandmother's comments about why my clothes seem to lack sufficient fabric—I get a bit sadder in the summer. "Summer" being a bit of an incorrect term of use for those of us living in these islands of eternal summer and thunderstorms powerful enough to crack the gods from their perches.
The days are (unfortunately) sliding towards the unbearable end of the thermometer and the gales have all but vanished. This morning, as I catalogued books for the next academic year, it rained a little but the worst kind, the kind that throws up even more heat, turns the air swampy and humid and makes your car look even dirtier than usual. Two weeks ago, I pulled open the blinds in the middle of the night to watch lightning fizzle and whip across the sky in spiderweb patterns; it felt so easy to fall asleep then.
Which just makes me think about cycles a lot and how much we say life is cyclical, going round and around and round the same 10 Fiona Apple songs on repeat—and yet how surprised we continue to be each time a phase returns to teach us something new. I recognised I'm a summertime depressive about four years ago now but I am still amazed to rediscover the fact when I stick up head up from whatever hole I've been hiding in. But I learn something new each time.
This summertime sadness didn't feel as toxic as last year's but the added tang of a pandemic-induced loneliness brings different flavours.
Some news: I published an essay in Apartment Therapy this week, an ode to my chaochao, which has elicited reactions from the (expected) "gross!" of white audiences, to the warm, bittersweet welcome of readers who had their own bantal busuks. I've heard so many stories of careless parents who got rid of beloved pillows, toys, loveys. I see you, I understand, and I feel for you. Please email me if you have any other stories of lost toys and pillows and chaochaos — I would love to hear from you, and (maybe) share your story.
I was thinking about chaochaos as I watched A Beautiful Day in the Neighbourhood, a really lovely hug of a film. I sobbed as the kids in the train sang "Won't You Be My Neighbour?" to Tom Hanks and Matthew Rhys, and thought about the childhood I had been gifted.
Here's a letter in four parts.
On the Nine of Swords & Page of Cups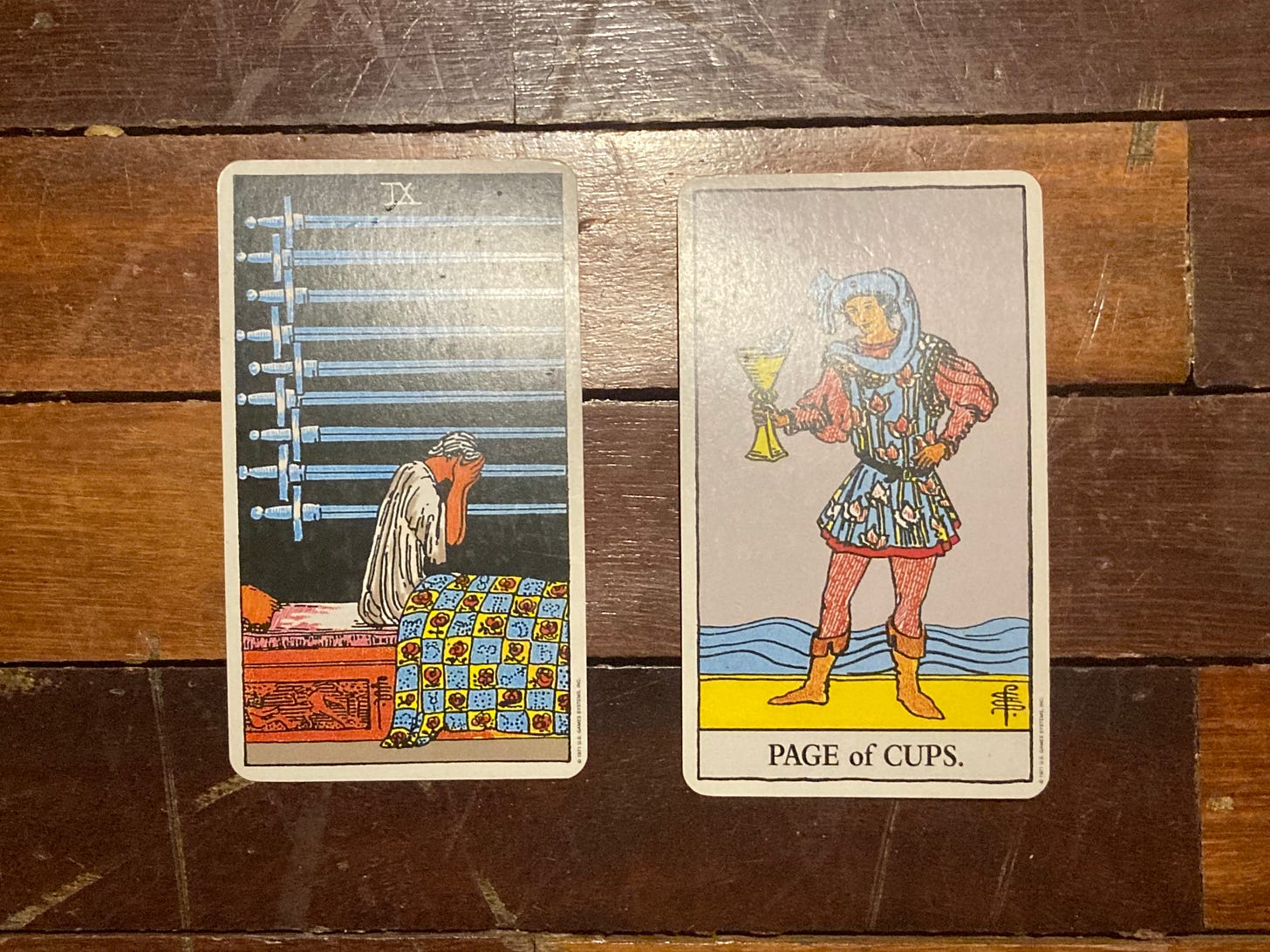 Image: Two cards from the Rider-Waite Deck, the Nine of Swords on the left (a figure with his face pressed into his palms, sleepless and fearful; in the background, nine swords cut across a wall of black) and the Page of Cups on the right (a joyful figure dressed in reds and blues, one arm akimbo while the other bears a golden cup with a fish inside it, against a backdrop of sky and sea, but his feet remain rooted on terra firma).
The Nine of Swords is the insomnia card.
It's the card of you lying in bed obsessing over that one time you got punished for bullying that guy who was genuinely annoying but who probably didn't deserve the beating you gave him; it's the one where you bargain with an apathetic universe about that guy you really liked and all the things you could have promised in exchange for him choosing to stay; it's the one where you wonder if it's worth staying in your job; or the pizza you really want to eat; or just the million other things your brain chooses to fixate on in the scant hours before the scant hours of rest you have available.
There are many Taylor Swift and Fiona Apple songs that could be the Nine of Swords.
But I wonder what songs are the Page of Cups? Perhaps it's invisible string (folklore, 2020). I don't think Fiona has many songs that signal potential, she is not that kind of writer.
The Page of Cups is a card of prophecy promised.
It's a teacher whispering in your ear all the potential you hold; it's the procrastination that holds you from leaping into a new project whose borders and ending you have not quite drawn; it's the unreserved belief in your own potential for creation; it's late nights spent feverishly plotting a new project; it's the dream of fixing Malaysia's racial problems with the power of a well-drawn character.
Infinite. Impossible. Imaginable.
On "folklore" and "Fetch the Bolt Cutters"
In general, in this plague year, it has been a gift to receive so much music from the artists I love and admire. For seven years now, I've on-and-off typed Fiona's name into Google, hunting for clues and indications of new music—and lo and behold, the video on her housemate's Tumblr announcing its imminent arrival. It felt like a blessing.
Taylor's too, though that felt more like a miracle, a silver parachute in the sky.
There are many others that have said good and better things about these two albums, I recommend looking them up. I only have a few thoughts to offer:
folklore is comforting in a way that reminds me of cold winters in London, when I was at my saddest points, wrapping myself in blankets and refusing to move, doom-scrolling in search for signs of life. I am grateful for it, but I also wish we did not need to have it.
Currently, my favourite songs on the album are: mirrorball; my tears ricochet; peace; epiphany. I still can't listen to "the 1" without crying a little.
Fetch the Bolt Cutters is all lightning. I have so many things to say about it but also so little to say about it. Fiona puts it all there on the page for you, a consummate over-sharer. It's such a generous album. What did we ever do to deserve such richness, a tenderness for each other and such respect for our lives, feelings, experiences?
Whole universes unravelling in your ears, as you drive home, feeling all the heartbreak you've ever collected in the hollow cavity of your chest.
On the end of friendship
Sometimes they end with a violent fight, a cut wrist, tears against a washing machine, then an intervention. Other times, it's just quietly slipping out the door, everything left behind on the kitchen table, disappearing into another name, another body, another border, another life.
I've been thinking about how we care about friendships, how they are like the finicky plants that overpopulate not just our homes but also our Instagram feeds. Each species requiring a specific kind of nurturing—and in some ways, the acceptance that certain plants are just not meant for our homes. I think about it this way: A friend of mine accepted that his home, in the shadows of tall towers, does not attempt to care for sunlight-needy plants. Another, knowing she lives in an extremely humid climate, chooses to let the desert rose she's been nursing die because she has other plant children to care for.
We all have finite resources of time and energy and money, and friendships—like plants— demand investments of us all to varying degrees. This is fine, and I think the transaction is important as it keeps us accountable and bought into them. At the same time, we must also recognise when the demands placed on us are too high; or, to paraphrase what another friend said to me, when someone no longer brings nourishment to the dining table.
It is fine that they do not—some people can only bring a fruit salad when what you really want is pasta and laksa and siew yoke. But then maybe it is time to stop inviting these guests to our tables. The desire to stop investing is hard, it may be unpleasant, but this is also a necessary part of protecting the limited invitations we have to our table.
Friendships should be nurtured, protected.
And they should end when they have to.
On making art
Nearly every day for three weeks, I've spent a couple of hours or more writing feverishly. This has not always been the way of my art; usually, the work comes in fits and starts, stuttering to a stop when it gets too hard or (more often) too embarrassing to continue. The novel I am writing has been embarrassing to say the least, but I've been encouraged by friends that to continue has not been fruitless.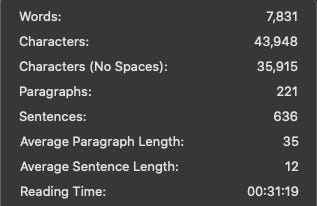 Image: A grey counter with white words, the number of words I have written so far. 7,831 words written; 43,948 characters with spaces; 221 paragraphs; 636 sentences.
What I am beginning to accept about my work though is that the part which I really enjoy is the editing. I enjoy tearing apart what exists and making it better—which is proving to be a difficult instinct to fight as I wade through the first third of this beast. And it is a beast—at about 26k words, I am only a sixth through, and I don't expect it to get any shorter.
But everyday (up until this week) I have also tried to arrive at my desk at the same time, writing for a concentrated hour or more. I've discovered interesting things about my process, such as a horrific fixation on certain words I over-rely on, the inability to extricate myself from the actual process of the words emerging from my brain onto the page. It's like watching a constant replay of a birthing, awkward and painful. But the trick, I am told, is to keep showing up. To simmer in the awkwardness until it fades into the background and becomes more white noise.
(If anyone has been able to arrive at this state, please let me know how. I have yet to achieve it.)
reading update
I've slowed pace since my last letter, but I've completed around 73 books by this point, with a handful still unfinished, somewhat due to the writing and a little because I keep getting distracted by shiny new books. Whoever designs for the Singaporean publishing house Epigram Books should honestly win all the awards, their work consistently pulls me in.
I'm on track to have 100 books read in 2020, which is a huge win for me. Fingers crossed, beloveds, we all need wins big and small to get through the rest of the year.
Until next time.
Yours, from the void,
Sam