Discover more from Footnotes from the Void
Footnotes from the Void is a collection of meditations and dispatches from a life haphazardly lived in Kuala Lumpur.
Footnote #1: The Ace of Swords
Reflections on a hard, lonely year.
Dear beloved,
This letter was meant to go out some time in January 2020—and despite January 2020 feeling 300 years long, it is still somehow going out in February/March time. I apologise, Time simply got away from me. Time has had that bad habit these days (maybe Time needs to read a productivity book!). It has allowed a week's worth of planned events to be shrunk down to the minutes between waking, eyeliner and a dash out the door. I am trying to get a hold of Time, am throwing a lasso to rein it in, but Time remains elusive—this is, perhaps, just the way it was always meant to be: me running after a wild dog, hunting it down before it vanishes into the shadows. I am throwing all the weekly planners, alarms, accountability calls, promises at it. I will get better at Managing Time, I hope.
Anyway, I am sending you this love letter now, sooner rather than later, and it's got to a little to do with Time. It's an extremely personal piece of writing, and I'm a bit scared about sending it out. But I think if we are going to start this relationship with honesty, I need to tell you about what happened last year, the events which feel like they have shifted the foundations of my entire life.
Before, I never had to think hard about change, but suddenly I had to.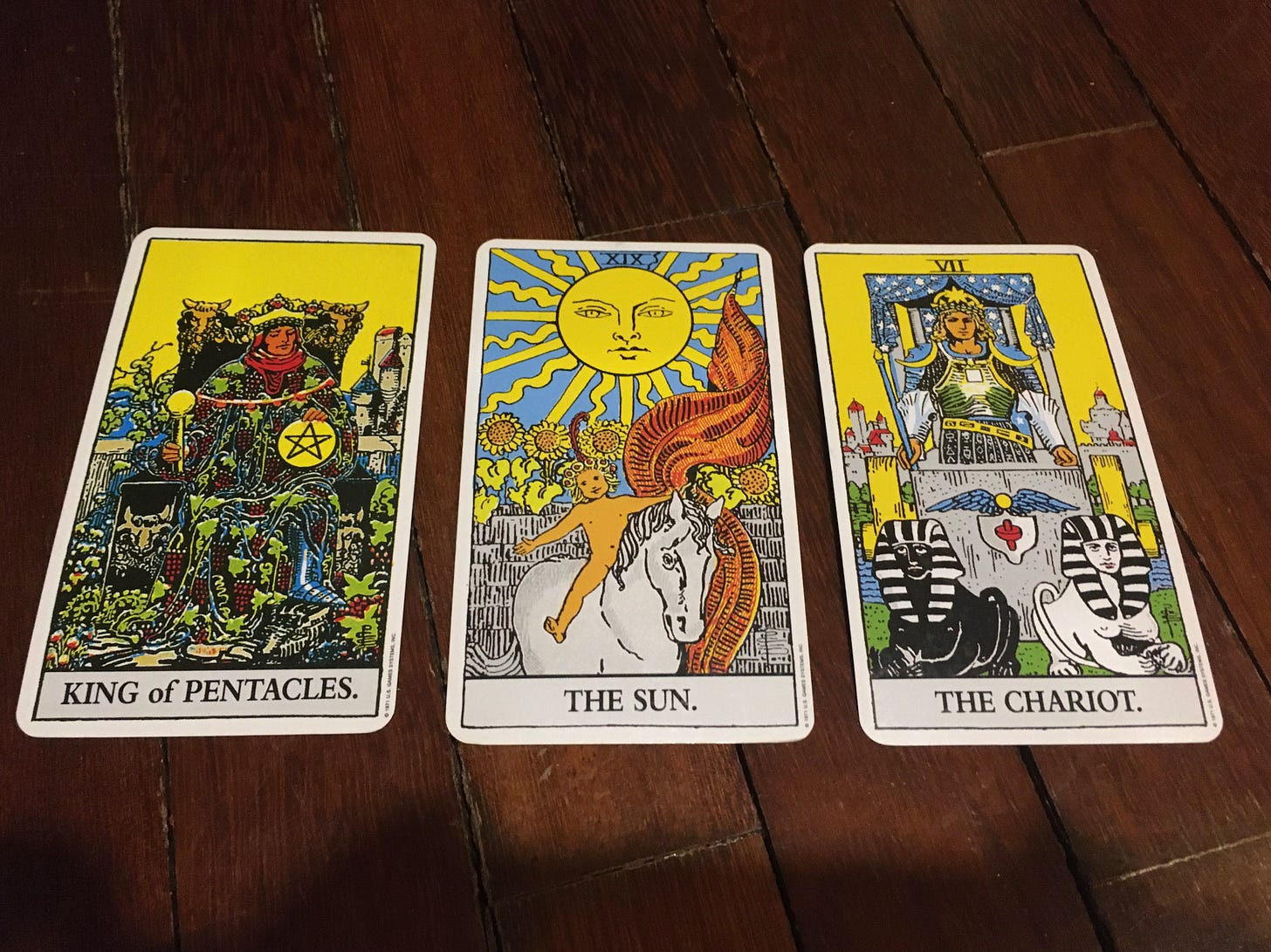 A tarot pull from January 8, 2020. (Rider-Waite Tarot) The King of Pentacles; The Sun; The Chariot. The pull was in response to a feeling of terror and anxiety, my brain spiralling outwards. The next day was better, as per my diary.
Waking up
It has been a difficult time trying to process the arrival of the new year when I'm barely over the remnants of the old. I want to tell this story, but I'm going to be honest, there are many parts to this story that I still don't feel comfortable claiming. Parts of it feel like they belong to someone else. My therapist and the best parts of my mind are trying to get me to be able to lay claim to the entire narrative, but there is something about Possession which is deeply unappealing to me. That is a lesson I started in January 2019, one which I am carrying forward into January 2020 and beyond.
Back in December 2018, before I left for a long holiday, I did a year ahead reading with my friend and gifted Tarot reader, Syar.  I'm not too sure what's the protocol on sharing something extremely private as this, but I'm zero-to-sixty when it comes to vulnerability and oversharing.
The graphic below is the whole year spread, which I made up using my Rider-Waite deck. You can read it from top to bottom, left to right, each card denoting a month. I made a mistake when I was putting to cards together to be photocopied, so the order should be read as thus:
Page of Pentacles (January), The Chariot (February), Knight of Pentacles (March), The High Priestess (April), The Star (May, the birth month!), Eight of Cups (June), The Devil (July), Knight of Wands (August), Death (September), King of Swords (October), Five of Wands (November), Ten of Pentacles (December).
At the time when I pulled the cards, I figured the universe was trying to tell me something about my old job: I wasn't unhappy per se, but there was a sense of stagnation and frustration with the old way of doing things, with the hierarchical nature of that place. As it turns out, it was about heartbreak and the end of a years-long relationship.
It feels very funny to say the words: I got dumped. And before that, I got cheated on.
I've alluded to the events of 2019 in previous newsletters, and it's not going to be surprising. One of the greatest irritations about the whole affair was that it's one of the most banal events of human life, and it makes me angry just thinking about how normal it is. It's not spectacular or special, it's so profoundly mundane that most people have very little to say about it.
And here I am, composing a paean to my plain, old sadness.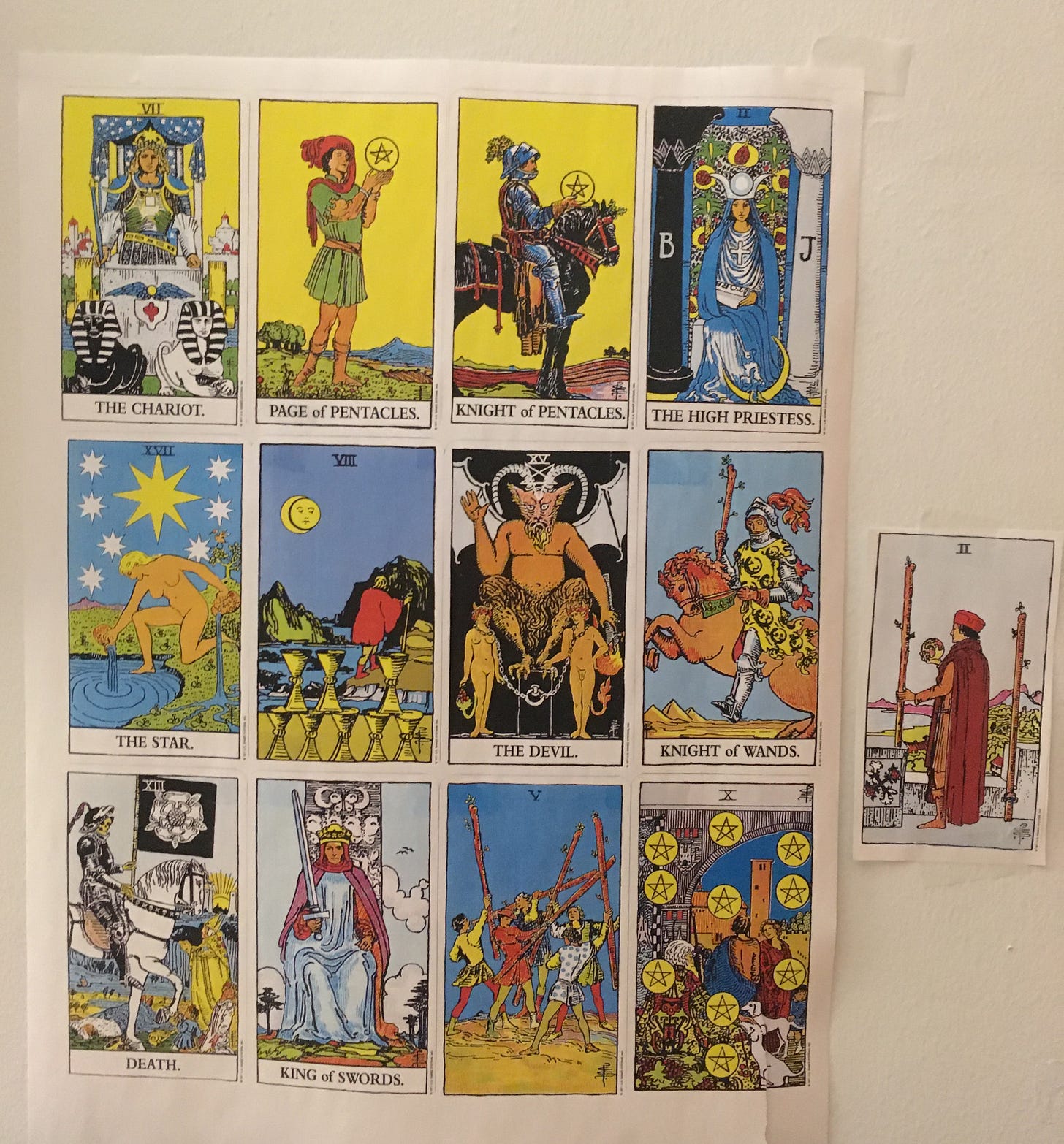 My 2019 tarot spread, pulled in December 2018. Read from left to right, top to bottom: The Chariot, The Page of Pentacles, The Knight of Pentacles, The High Priestess, The Star, Eight of Cups, The Devil, The Knight of Wands, Death, The King of Swords, Five of Wands, Ten of Pentacles. Card on the right is a clarifying/focus card: Two of Wands.
A hard, lonely year
I spiralled into grief and I've been digging myself out of the rubble ever since. There have thankfully been few drunken nights fuelled by self-pity, but there were spontaneous bursts of tears, countless unsent emails on the spectrum of deranged ranting to grief-stricken reckonings; so many unanswered questions I wrote down in pencil, ink and digital text. It was like being shocked into wakefulness—if you asked me today whether or not I would have preferred to stay asleep, I would probably say: yes, leave me to my dreams. I am profoundly ashamed of that fact, but also know that I would rather be honest about my weaknesses.  
I gave myself a year to wallow in the grief.
Between 5 February 2019 and 5 February 2020, I would allow myself sink beneath the pull of loss and sadness and anger and shame—but come the morning of 6 February 2020, I needed to be functional, fit for service, definitely moved on.
If we are to measure growth in terms of a checklist, then I got a lot done in 2019: I had several pieces published in print and digital, wrote for art galleries and news sites, produced a (bad) quarter of an unfinished novel, expanded my yoga practice, got strong, learned how to rock climb, went on dates, kissed boys, built new friendships, got more tattoos and haircuts, travelled a little, built a tiny nest egg. My life today looks nothing like what I did the year before, like I had to burn every vestige of an old life and its attendant dreams. I burnt so many dreams in 2019, and their loss is a physical ache.
And despite all that, despite the community around me that stepped up and held my hand, it still felt like the hardest, loneliest year I have ever experienced.
The nights were always the hardest hours, and in the early months, I feel like I slept for hour-long stretches, then not at all, then for days on end.
Grief is a flat circle, one whose shape my hands have been struggling to learn. I thought I understood it once, thought I had learned it on a cold November night back in 2014, but this was a different beast. Every time I thought I had encountered a new revelation that promised to pull me out on the other side, with every eureka moment, I would slip and fall back into the spiral. Each time I thought I had learned a new curve, had forged a way to take this hairpin turn, the shape shifted. The repetitiveness of cycle was excruciating, and I still feel like there are a million more miles to dig through. I'm hoping this next year is lighter, less lonely. I'm struggling not to take the fruitlessness of struggle as the only lesson from 2019.
Perhaps most damning for me is the sense that I had let myself go further than I ever thought I would have.
I had always prided myself on being self aware, self sufficient, an independent spirit who didn't know a lot but was willing to learn. But now I had to contend with the realisation that I had moulded myself to fit the contours of someone else's life, that I had compromised a lot more than I had ever thought I had capacity to. This created a kind of void, a shapeless shame that I struggled with for months, that I'm still struggling with now.
Ace of Swords / Ten of Wands
In January 2020, I pulled 12 more cards with a close friend. Twelve more cards to signal twelve more months of upheaval and change. It was a harder pull, more complicated and opaque than the previous year. I've gone through a lot of changes but the scariest one for me now seems to be the question of "what comes after the end?"
This should seem like a question for the Tower-Star combination, but let's just call 2019 a Tower Year—so what does a Star Year look like?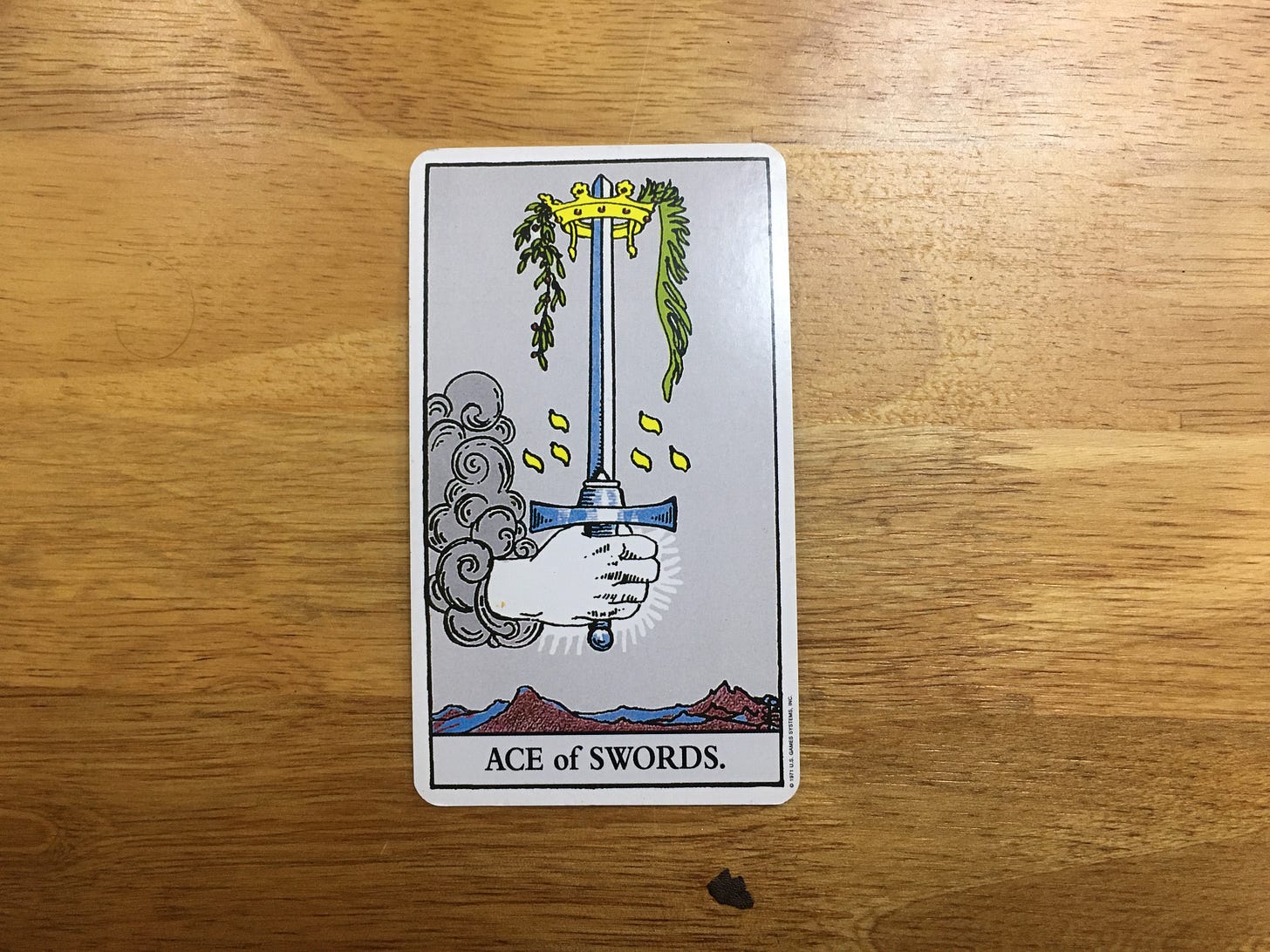 Image: Ace of Swords. A hand emerging from a cloud holds up a sword adorned with a crown. Two branches of green leaves hang off the crown: maybe laurel and oak, or palm and olive.
My January card was the Ace of Swords, and it feels like it should rightly be a beginning. The Swords are concerned with the mind and intellect, and for so many years my mind has been one of the great assets I relied upon to get myself through. Maybe to the detriment of my other gifts. January was a hard month, and I grappled with the fact that my year of wallowing was up. Now that I had told myself that I could no longer be defined by the grief, I struggled with how to feel joy again. What comes after you have only felt pain and now you have to try to get back to base rate?
To be perfectly, honest, I don't really even know what my base rate is.
I've spent nearly a third of my life with one person, and it has so profoundly shaped my perception of self that diagnosing the problem took a lot of time and pain. I'm now making my way through some of the hard, beginning stuff. I hope what they tell me is correct, and that time will take care of what I cannot.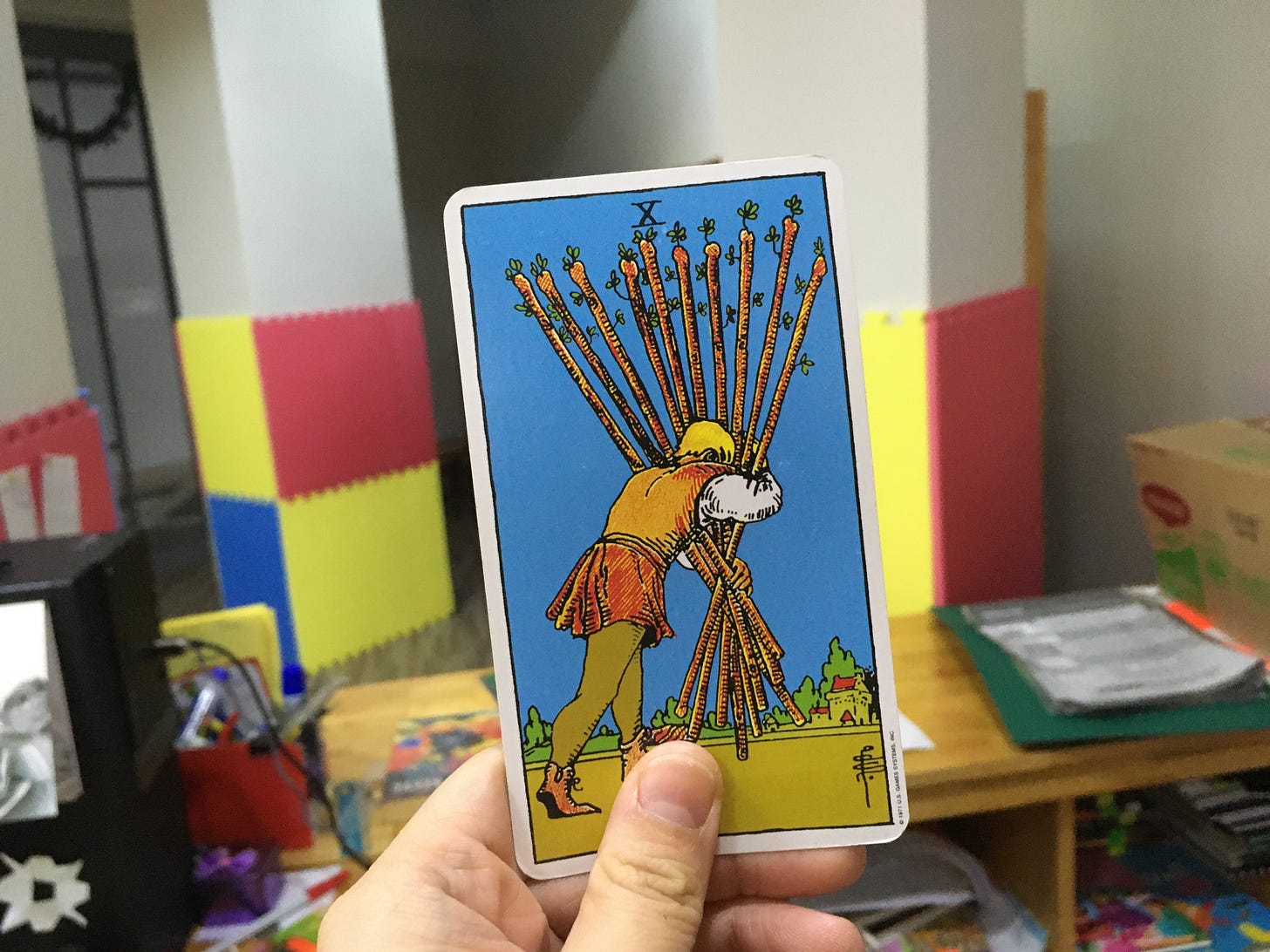 Image: Ten of Wands. Against the backdrop of a clear blue sky, a man walks towards a distant town, the ten wands he holds in his arms obscuring his vision (or maybe he's hiding his face in his burden).
My February card is the Ten of Wands, and while Tens in the Cups and Pentacles signal an Edenic end, in the Swords and Wands, Tens are points of ending or overwhelmed energy. The man in the Ten of Wands cannot see in front of him, is so fixated on what he bears that he seems on the brink of collapsing—definitely overworked, but there is some anticipation of the point at which he'll drop everywhere. Let it all slip away. But the sky before him is clear of clouds; the way forward is self evident.
It feels catastrophic but I am hopeful that the end of this burden signals the beginning of something else.
---
A Book Self
I've had a productive reading year so far, to say the least. It's taken a couple of years, but I think I have finally regained the reading stamina I had when I was a teenager, and then some. I have more attention now for difficult literary books, challenging reads and I'm more forgiving of my love for romance and fantasy fiction.
I've set myself the goal of reading 50 books, and am well on my way to clearing the benchmark. I'm going to up the challenge a little and say I have to complete 20 "serious" (non-commercial) fiction, which I've underlined in the following lists. Audiobooks count (sorry, I make the rules) and are marked with 🎧.
It's not really that I think that some books are more serious than others, I just think that I chow down on commercial fiction like candy and they don't take much to hook my attention. It's the others which require more work, though I do enjoy them once I eventually get into them.
Challenge
Total Books: 21/50
"Serious" Books: 7/20
January
Life Undercover (Amaryllis Fox) 🎧
Know My Name (Chanel Miller) 🎧
The Silence of the Girls (Pat Barker)
The City Always Wins (Omar Hamilton Robert)
Sleepovers (Jacqueline Wilson)
The Lottie Project (Jacqueline Wilson)
The Harlot (Saskia Walker)
Monica's Secret (Saskia Walker)
Holly's Intuition (Saskia Walker)
Boundary Crossed
Boundary Lines
Boundary Born
February
Idol (Kristen Callihan)
Managed (Kristen Callihan)
The Libertine (Saskia Walker)
The Jezebel (Saskia Walker)
Say Nothing (Patrick Radden Keefe) 🎧
The Lord I Left (Scarlett Peckham)
Three Women (Lisa Taddeo)
Lesson in Thorns (Sierra Simone)
Crosstalk (Connie Willis)
---
This has been a fairly long edition of this newsletter, and I really didn't want it to be, but here we are. I'm looking forward to what the new year holds, and all the scary, uncertain things that are coming our way. But I leave you with this:
I've learned a lot about coping with loss and disappointment and heartbreak and failure and despair this year. Considering the current clusterfuck of Malaysian politics and the world at large, I've arrived at the conclusion that you can only hold fast to what you can. You can only hold to your principles, hold your loved ones close, continue looking ahead to what comes and prepare. Do your best for your little corner of the world. Keep fighting.
I'll keep fighting for you.
Love from the void,
Sam